USPS Disability Insurance for Postal Employees
Will Paid Leave Be Sufficient to Cover the Loss of Your Income?
Your family likely relies on the income you make as a postal worker. While most United States Postal Service (USPS) employees understand the importance of having car, home, and health insurance, many lack the coverage they need to cover an unexpected loss of income due to an illness or injury.
Short-term USPS disability insurance can help if a health problem or physical injury prevents you from working and earning a paycheck at your postal service job.
We understand the financial hardships postal employees face when they become sick or disabled for an extended period. We offer comprehensive disability insurance solutions to help federal employees working for USPS maintain financial stability during times of lost income.
We urge you not to wait until an illness or injury stops you from doing your job as a postal employee. Invest in short-term disability insurance now, and look toward the future, knowing you're prepared for whatever comes next.
Will Your Employer Offer Assistance if You Become Ill or Injured?
The USPS only offers disability benefits through the Federal Employees Retirement System. Confirming that you meet eligibility requirements and getting approval for disability retirement may take months, and this option doesn't suit federal and postal employees who want to keep working after they recover from their conditions.
As a postal employee who wants to prepare for unforeseeable injuries and illnesses, you must explore other options to obtain the disability benefits you need.
Supplemental postal worker disability insurance provides short-term coverage in the event the employee cannot work for a period of time. Private insurers like Postal Life and Disability Plans help full and part-time USPS employees get the insurance they need to close the benefit gaps in their current disability coverage options.
Some supplemental insurance companies don't offer short-term disability insurance to federal employees or exclude postal employees from getting coverage. We believe USPS workers shouldn't have to rely on disability retirement or social security for short-term disability coverage, so we offer an excellent program with many advantages.
Our mission is to help postal employees obtain the short-term disability coverage they need, with automatic approval and waiting periods as short as 14 days.
Get the Best Disability Insurance for Postal Workers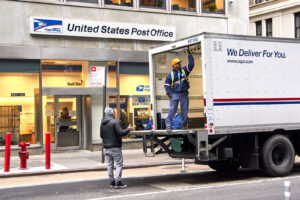 If you are eligible for coverage, you may qualify for up to $3,000 in monthly, tax-free disability benefits. Our postal carrier disability insurance doesn't require you to complete a health exam for eligibility and offers coverage for injuries suffered on and off the job for up to one year per occurrence. That means you'll still be able to submit a claim and get the coverage you need if you are injured at home.
Many insurance companies offering short-term disability insurance for federal postal employees use in-house doctors to determine if an injury or illness claim qualifies for coverage. We do things differently here at Postal Life and Disability Plans.
If you become ill or injured, YOUR doctor will decide whether or not you are fit to work, not an in-house physician who only has your records to go on.
We make it easy to pay premiums when our customers set up automatic payroll deductions. Rather than having to remember to pay your premium every month, you can opt to have it withdrawn from your paycheck automatically. By setting up payroll deduction payments, you don't have to worry about losing your disability benefits due to missed payments.
Trust Postal Life and Disability Plans for short-term disability insurance, and we'll provide transparent pricing, short waiting periods, and automatic coverage. Don't wait until it's too late to get coverage for a potential loss of income due to a sickness or injury—get covered today.
What Happens if You Become Injured?
You never plan to experience a debilitating injury, but accidents can interrupt your daily life without warning. Millions of Americans sustain injuries every year from slipping and falling or getting into car accidents. Whether you fall on an icy surface in the middle of winter or experience an auto accident, you may not be able to work for weeks or even months.
Everyday expenses add up fast, especially if you support a family. Utility bills, mortgage and rent payments, groceries, and other costs can quickly drain your savings account and leave you and your family struggling to remain financially stable or leave you in significant debt. United States Post Office disability insurance helps cover daily living expenses, usually paid for with a regular paycheck in the event the covered person becomes too injured or sick to work.
As a postal employee, you don't need to rely on social security disability or other federal government programs for sufficient benefits. Our postal disability insurance plans can provide the coverage you need at a transparent, affordable price.
What Happens if You Get Sick?
Your accrued sick leave may provide the paycheck supplementation you need to recover from a quick sickness, but what will happen if an illness keeps you out of work for weeks or months? Serious infections, heart conditions, strokes, and other medical issues can leave you unable to make money for an extended period. You can get the assistance you need by submitting a claim through short-term disability benefits coverage.
Our program provides short-term disability insurance for postal employees to provide these essential workers with the benefits they need in the event of an illness. If you enroll in a letter carrier disability insurance plan through us, you'll choose a 14- or 30-day waiting period. We won't raise your premium due to your sex, age, or physical condition, and you may qualify for a benefit of $1,500 to $3,000 per month.
Our program offers automatic approval. All you have to do to become eligible for short-term disability insurance through Postal Life and Disability Plans is work for the USPS for the previous 30 days. Contact us online today to get a free quote.
Don't rely on Social Security Disability. Postal Life and Disability Plans provides short-term disability insurance for federal employees of the United States Postal Service.